Managed IT & Cyber Security Services
Experts Who Can Save Your Business Time and Money
Is Your Server, Network, and Computer Protected?
Whether you're in the healthcare industry, retail, manufacturing, transportation, or one of dozens of other industries, your business most likely relies on computers that run smoothly and safely. Your server may store customer data, your business's sensitive financial information, or your employees may use a program on their computers that they need to run without it freezing. Whatever your IT needs are, professional IT services can ensure that your business is using time and money effectively, that your employees are productive, and that your customer's data is protected.
Sign Up For a Free Performance Analysis
To determine what your needs are, RCOM Computer Services will complete a performance analysis, which will look at various aspects of your business's server, network, and computer setup. It's this performance analysis that will help us understand what problem areas exist, areas that can be improved, and how your business can save both time and money with managed IT services. When technology plays such a large role in the health of your business and the peace of mind of your customers, it's essential that you understand what's needed and to put in place a strategic method for making improvements. Let RCOM Computer Services be the team to make all of this happen, and more.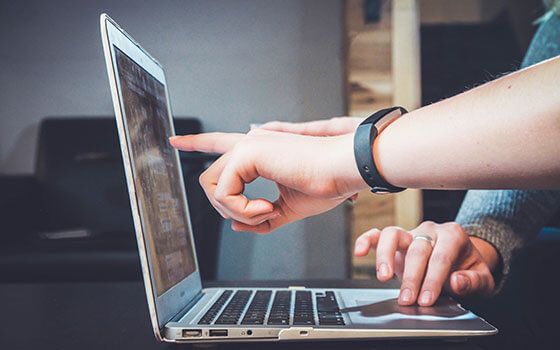 Get Your Free Performance Analysis
Your computers are running slowly.
You suspect malware or possible viruses due to unwanted popups or internet redirection.
You are receiving an unusual amount of SPAM in your email.
You want to make sure your data is being backed up properly and completely.
Your computers or network has a mind of its own and you don't know why.
Your computer has collected too much dust.
Your current Operating System and programs aren't up to date and may not be protected from hacker vulnerabilities.
Free Performance Analysis
Free Performance & Cyber Security Analysis
Managed IT & Cyber Security Services in Northern Colorado
It's often easy for people to put faith in something that they don't fully understand. They may think "I've never had a problem before," or when they are aware of certain issues that could arise – "It won't happen to me." However, with more and more cases of companies being hacked, and when technology has become such an essential part in a business's everyday processes, business owners can no longer afford to not understand the risk they may be facing, the loss of production that could occur, or the time that could be wasted to ineffective computer systems or an insecure network.

RCOM Will Help You Understand, Design, Implement, and Improve Your IT Applications
RCOM Computer Services has been providing managed IT & Cyber Security services to businesses, organizations, and individuals across Northern Colorado for years. But in order to fully understand what you need and what areas can be improved, our team needs to complete a performance analysis which will closely inspect a variety of hardware and software components as well as the physical condition of the computers you and your employees use. When we have an accurate picture of your current setup and performance metrics, we can create a detailed strategy for building safety measures, creating notifications, and we can establish a schedule for regular maintenance and follow-up to ensure that everything is working as it should. Our priority at RCOM Computer Services is to help you manage your technology in an effective and efficient way, so you can ultimately save time, money, and focus on growing your business.
Top Reasons Why Your IT Setup Needs a Performance & Cyber Security Analysis

Your Computers Are Running Slowly
There are a variety of reasons why a computer may not be running as quickly as you'd like. Reasons can include:
The Hard Drive: Hard drives have a certain lifespan, and will need to be replaced when the moving parts are no longer functioning. If your computer is running on a solid-state drive (SSD), it will last up to 10 years, or if it's using a hard disk drive (HDD), it may only last two to three years. It could also be that the hard drive is full, or nearly full. When hard drives are about 95% full, they will slow down.
Too Many Add-ons: There are countless extensions that can make working on a computer and completing projects faster. On the other hand, too many add-ons can slow a computer's processing power.
Too Many Programs or Tabs Are Open: Computers use RAM, or random-access memory to run programs and process all of the things they're being told to do. However, at some point there won't be enough memory to efficiently perform each task or run each program, causing it to slow down.
There Could be a Virus: Viruses, malware, or spyware can cause a browser to push advertising or phishing sites, which can slow down a computer.
No one likes having to wait for a site or program to load. And waiting, even though it may only be a few minutes here and there, can quickly add up to time where work isn't being done. Not to mention the feelings of anxiety or frustration that can build up in employees while they're waiting to complete their work. With a dedicated managed IT services team, when a computer isn't running as it should, you can count on them to determine the source of the problem and to quickly make any necessary repairs, helping to improve employee morale and increase productivity.

You Suspect Malware or Viruses
Whether you're a small start-up with 10 employees or a large Fortune 500 company, computer viruses can be dangerous and sometimes expensive. A computer infected with a virus may run slowly, there may be erratic behavior, computer crashes, the hard drive can be reformatted, or there may even be data loss. For businesses in certain industries, like healthcare, facing a virus could mean significant financial loss if patients records were deleted, or even stolen, due to a virus. There are several ways to prevent viruses from getting onto your computers:
Using anti-virus protection
Installing anti-spyware software
Regularly updating the operating system
Monitoring browser security settings
Only downloading software from trusted sites
Avoiding emails from unknown senders
Deleting suspicious emails asking for financial or personal information
The team at RCOM Computer Services can assure you that we will protect your computers by preventing viruses from occuring in the first place.

There is an Unusual Amount of SPAM in Your Email
It's likely that nearly everyone has gotten an email from someone within their organization asking them for their social security number "because the human resources personnel is out today." Or you may have received an email that was clearly sent in bulk, or a phishing email. However the spam email entered your inbox, it's one of the many signs that your computer may have a virus or that someone's email was hacked and the hacker was able to send messages impersonating the hacked email.
Most employees or business owners simply see spam as a nuisance and quickly delete the emails, but left untreated, spam can get even worse. On the chance that someone does open a file in a spam email, respond to the email in any way, or provide personal information in a response, the hacker could then gain access to the computer, files, and even your identity.

Data Needs to Be Backed up Properly and Completely
Every now and then, we'll hear about a company who was hacked and customer information was stolen or lost. Regardless of the industry you're in, this can have devastating results to the reputation of the company and can lead to potential lawsuits and financial loss as well. Data storage, backups, and data recovery are of the many managed IT services we provide, allowing you, your employees, and your customers peace of mind.
With today's technological landscape, when we rarely see physical copies of reports and other data, it is essential that the information is safe and secure, and can be easily accessed when needed. If your company frequently needs to back up their data, and you want complete assurance that the information is completely protected, you need an IT services team who understands what it takes to properly and completely back up data.

Your Computer or Network Has a Mind of Its Own
One of the many challenges of designing and implementing an architecture of software and hardware applications is that there are a variety of ways of doing it. In some cases, an employee will design a network and then leave the organization, leaving management to figure out how everything was set up and how to make changes. This often gives employees the impression that a computer or the network has a mind of its own.
For those inexperienced with technology, computers, networks, or servers, it all appears to be one gigantic puzzle. This is an excellent reason for getting a performance analysis and hiring a team of experts who can determine how the system was set up, quickly make necessary changes, or train essential team members on how to use the existing system. At RCOM Computer Services, we understand that technology can be hard to understand and implement, but we can assure you that we love working with computers and everything related to them. We're more than happy to help you find a quick solution.

Your Computer Has Collected Too Much Dust
Dust is everywhere, and while having to dust the computers every once in a while may not sound like such a bad thing, it's a bigger problem than just having to dust the tower of your computer. Whether you work in a hospital, a school, or in manufacturing, dust is nearly inescapable and can cause a lot of damage. The problem is that dust accumulates both on the surface of the computers as well as inside the computer, preventing the fan and vents from functioning efficiently.
As dust slowly accumulates and the fan pushes it further into the crevices of your computer, it can lead to overheating and even the sudden failure of critical parts. If your computer feels hotter than normal, is running unusually loudly, or simply looks dirty when you take the tower cover off, it may require more than just a can of compressed air. Even though compressed air won't cause any damage, the computer may need a more in-depth cleaning to really get it back in shape.

Your Current Operating System and Programs Aren't up to Date and May Not Be Protected
There's a reason why that little pop-up regularly asks you if you want to install the latest software update. This is because operating systems change and updated versions can offer more protection against malware and viruses and can better protect your data. The truth is that cyber criminals are more dangerous today than ever and simply updating your operating system or downloading an update is one of the best ways to prevent them from gaining access to your information. However, the unfortunate truth is that many computer owners and business owners don't have a system in place to ensure that operating systems and programs are being updated as they should.
RCOM Computer Services has been in the managed IT & Cyber Security services industry since 1982, and we have been through countless changes and adaptations in the IT world. This unique perspective gives us the ability to quickly see potential problems in your network and computer system and to create a strategy for improvement.
We understand that business owners and employees don't want to worry about how their computer is functioning, they don't want to wait for a program to load, and we know that customers always want peace of mind that their information is protected. With IT services from a team of experts, you can do your job and your customers can rely on the services you offer. RCOM will work to prevent issues from arising in the first place, we can put automatic systems in place to ensure that any issues are caught as quickly as possible, and we'll offer solid data security and backup services.
To get all of this and more, it starts with a free performance analysis. In order to design a strategy based on your organization's needs, we need to thoroughly inspect the setup of the network, the performance of the computers, and more. Don't simply put faith in technology simply because there hasn't been a problem before. The cost of inaction is significant and RCOM Computer Services will ensure that you get everything you need to protect your business.
We Specialize In All Your IT & Cyber Security Needs
Get in touch with our team to see what we can do for you.